Fake message viral person caught with bogus tweet image of bone cancer.



The Ahmedabad Crime Branch has nabbed four persons for making a bogus tweet image of Union Home Minister Amit Shah having bone cancer and making a fake message viral. The arrested accused are said to be from Bhavnagar and Ahmedabad. Following this tweet image, Amit Shah's supporters across the country were shocked. Elfel commented following this bogus message from protesters. Following the fake tweet, the team of Ahmedabad City Crime Branch came into action and nabbed the accused with the help of cyber crime.
Fake tweet message spreader from Bhavnagar, Ahmedabad

The fake message of the tweet started various comments on social media. Bhavnagar accused Feroz Khan Jafar Khan Pathan and Sarfaraz Abdul Majeed Memon while Ahmedabad's two Sajjad Ali Bachubhai Nayani and Siraj Hussain Mahammad Ali Virani have been detained. Who is being interrogated by the Crime Branch.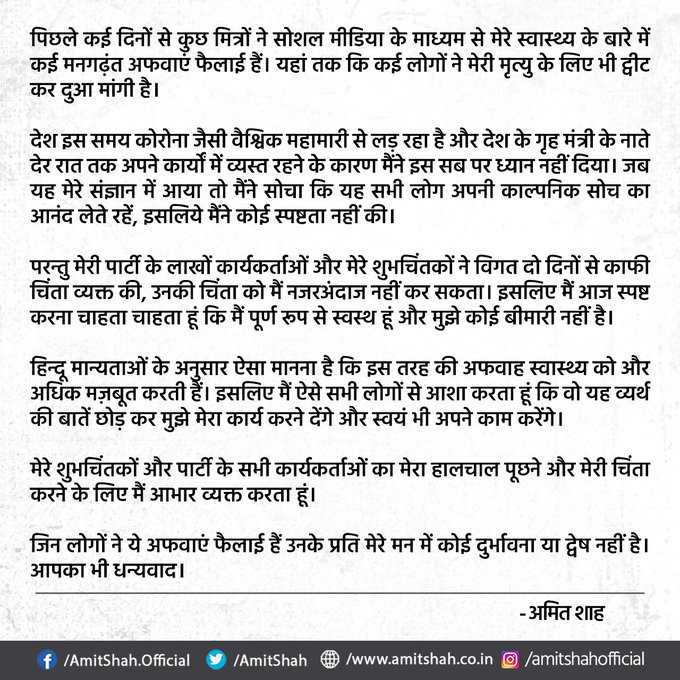 The message went viral by creating a bogus image



The accused created a bogus image of Amit Shah's Twitter account and posted a fake message in Amit Shah's name on social media. In which it was written in Hindi that "Mere desh ki janta, every step taken by me is in the interest of the country. I have no enmity with any caste or religion in particular. I am suffering from this, I am suffering from bone cancer in my back. I hope that in the month of Ramadan or this blessed month, I wish the Muslim community or the people for my health.I will pray and get well soon and I will serve you. "
Amit Shah told the rumor monger that there was no malice towards him
"I am grateful to all my well-wishers and party workers for inquiring about my health and for the concerns they have expressed," he wrote. I have no grudge against those who are spreading such rumors.
Read To Gujarati: Click Here