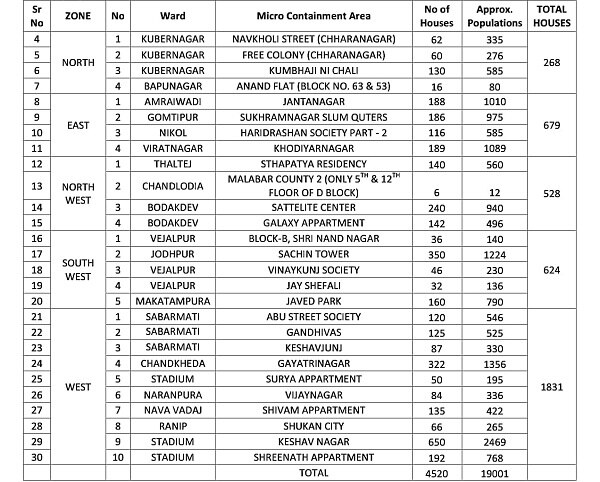 Ahmedabad: Corona cases are on the rise in Gujarat. Speaking of Ahmedabad, now that the cases of corona in the western part of the river are on the rise, a new list of micro contentment zones has been released by the Ahmedabad Corporation on June 20. The list includes 36 new areas in the content zone. There will be a complete lockdown in these areas. As well as the movement of people has been banned.






Additional Chief Secretary Dr. The decision was taken at a meeting held at Riverfront House chaired by Rajiv Kumar Gupta. In which Mun. Commissioner Mukesh Kurmar and Deputy Commissioners of various zones were present. Apart from this Health Day. Mun. The commissioner and health department officials were also present.
The meeting decided to continue 6 of the previous 35 areas as micro-containment areas. Apart from this 30 new areas have been declared as micro containment areas. Against it 29 areas have been exempted from micro containment.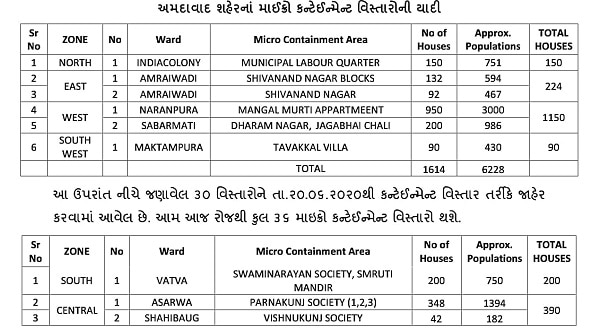 અમદાવાદઃ ગુજરાતમાં કોરોનાના કેસો સતત વધી રહ્યા છે. અમદાવાદની વાત કરીએ હવે નદીના પશ્ચિમ વિસ્તારમાં કોરોનાના કેસો વધી રહ્યા છે, ત્યારે 20મી જૂને અમદાવાદ કોર્પોરેશન દ્વારા માઇક્રો કન્ટેન્ટમેન્ટ ઝોનની નવી યાદી બહાર પાડવામાં આવી છે. આ યાદીમાં નવા 36 વિસ્તારોને કન્ટેન્ટમેન્ટ ઝોનમાં મુકવામાં આવ્યા છે. આ વિસ્તારોમાં સંપૂર્ણ લોકડાઉન રહેશે. તેમજ લોકોની અવર-જવર પર પણ પ્રતિબંધ લાદવામાં આવ્યો છે.
અધિક મુખ્ય સચિવ ડો. રાજીવકુમાર ગુપ્તાના અધ્યક્ષ સ્થાને રીવરફ્રન્ટ હાઉસ ખાતે મળેલી બેઠકમાં આ નિર્ણય લેવામાં આવ્યો છે. જેમાં મ્યુનિ. કમિશ્નર મુકેશ કુરમાર અને વિવિધ ઝોનના ડેપ્યુટી કમિશ્નરો હાજર રહ્યા હતા. આ સિવાય હેલ્તતના ડે. મ્યુનિ. કમિશ્નર અને આરોગ્ય ખાતાના અધિકારીઓ પણ હાજર હતા.


આ બેઠકમાં અગાઉના 35માંથી 6 વિસ્તારોને માઇક્રો કન્ટેન્મેન્ટ વિસ્તાર તરીકે ચાલું રાખવાનો નિર્ણય લેવાયો છે. આ સિવાય નવા 30 વિસ્તારોને માઇક્રો કન્ટેન્મેન્ટ વિસ્તાર જાહેર કરાયા છે. તેની સામે 29 વિસ્તારોને માઇક્રો કન્ટેન્મેન્ટમાંથી મુક્તિ આપવામાં આવી છે.