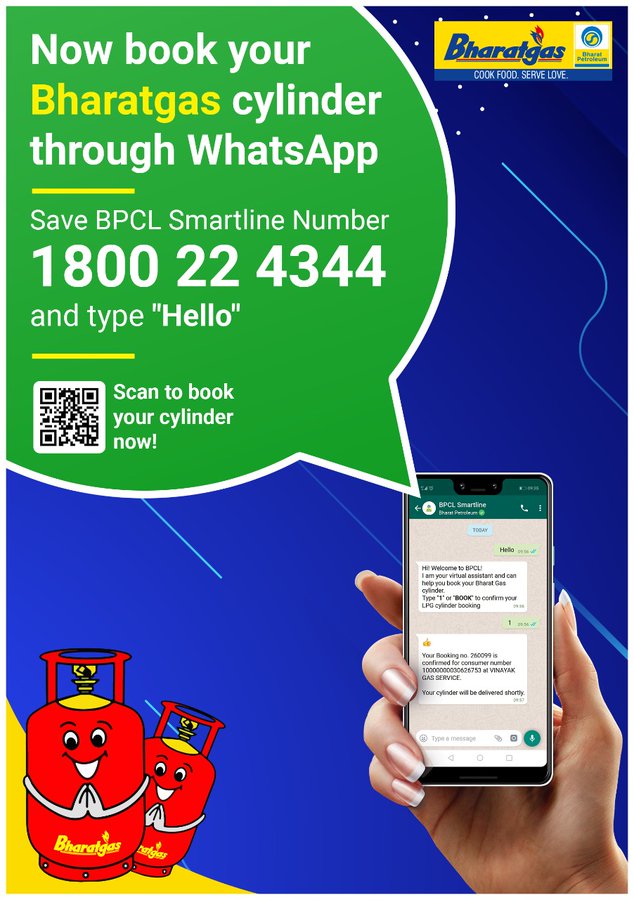 Bharat Gas booking: How to do it using WhatsApp India's second-largest oil marketing company Bharat Petroleum Corp Ltd (BPCL) has introduced a new way to book cooking gas on instant messaging WhatsApp. The new initiative is built to make it convenient for the customers of the oil company. The company has over 71 million customers in India and this new step is aimed at making the process of booking LPG much easier.
"From today (Tuesday), Bharat Gas (its LPG brand) customers across the country can book their cooking gas on WhatsApp," BPCL said in a statement adding that it has introduced a WhatsApp business channel to facilitate cylinder booking.
How to book on WhatsApp



The customer will just have to register the booking on BPCL's official WhatsApp Business account with the smart line number 1800224344. Once the booking has been done through WhatsApp the customer will also get a confirmation message and a link to make an online payment for the refill through any channel — debit or credit cards, UPI, and other payment apps like Amazon.
Now after the Modi government provides free kitchen gas connections to nearly two and a half million people below the poverty line, LPG is now available for them. Refill booking is also easy.



Modi government will soon start booking gas cylinders through WhatsApp. This scheme will be started soon from some districts of Uttar Pradesh.
All the information about this came from the official sources of the Central Ministry of Petroleum and Natural Gas. In this connection, some officials from the Ministry of Petroleum and Natural Gas have visited Agra in Uttar Pradesh recently.



After getting a positive reaction from there, the work is being done further. When officials questioned why booking by WhatsApp? So, he told that at this time the facility of booking with the Interactive Voice Response System (IVRS) is being provided, but till now the LPG is being provided. 


It is not possible to connect dealers with it. Not only this, it is said to separate numbers for different services, in which less educated people in the village make a mistake.Besides, he said that online booking facility has been started but all the dealers here have not been connected to this service yet. 


Take WhatsApp that officials say that the Smartphone has now reached almost every village and almost every Smartphone has a whitespace download. So, if booking facility is launched on this, there will not be any problem.